If only there was a secret formula for making every blog post you write go viral. Of course, if such a formula existed, we'd all be at it, wouldn't we? Viral would be the new norm and wouldn't be so great any more (
super-
viral anyone?)
But there are ways to increase your chances. Even if it doesn't go viral, you're still getting your content in front of as many eyes as possible.
The most important factor of course is to have great content in the first place. You need content that gives value in bucketfuls, content that informs, educates, amuses, and entertains. In brief, you need content that screams share me now!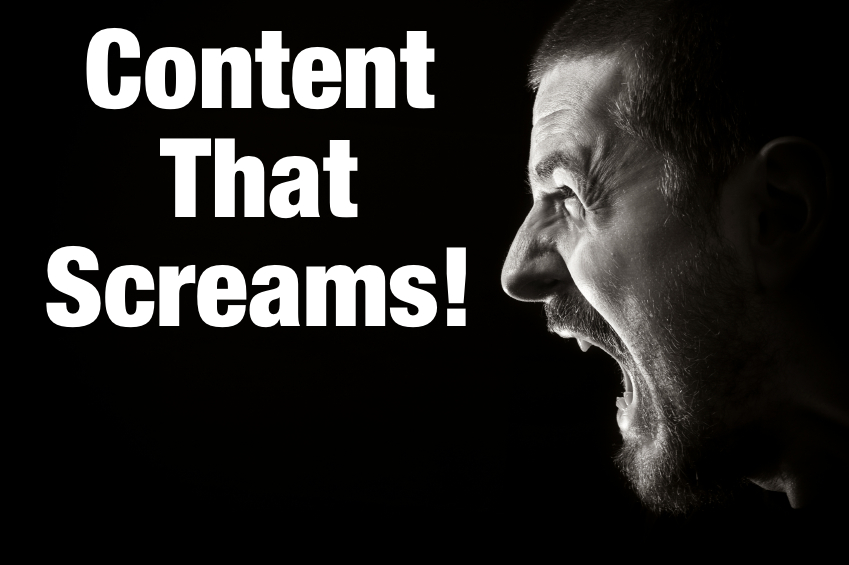 Assuming you've ticked that box, use as many of the following as possible for every blog post you create.
1. Keyword Optimize Your Post
A little keyword research goes a long way when you use it to optimize your content for the search engines.
[Download our FREE 8-page guide on How To Do Effective Keyword Research To Optimize Your Content And Attract Your Marketplace].
2. Google+
When sharing posts, most people use the Link option at Google+ … but it's a good way to merge into the foray and go unnoticed.
Instead, go for maximum attention and shareability. Try sharing a picture (the Photos option), using one of the images from your post. Then comment on and link to your post in the Share what's new section.
Of course, this assumes you're already switched on to Google+ and building up followers. If not, you should be.
3. Twitter
The good news is you can automate sharing your latest post over Twitter by simply adding your blog's RSS feed to Hootsuite.
4. Technorati
You don't submit each blog post to Technorati. Instead, by registering your blog with them, they will automatically pick up new posts as you publish them. You'll then be able to tick this box for all your future blog posts.
To register your blog, sign up with them, go to your profile page, and enter your blog's link in the Start a blog claim field. After entering some details about your blog, they'll send you a claim code which you then temporarily publish on your blog so they can confirm you're the owner.
5. RSS Submission
Your blog has an RSS feed built in automatically – use it wisely, and in more ways than just automating your Tweets.
6. Facebook
7. LinkedIn
8. Delicious

9. Digg
10. Reddit
11. StumbleUpon
12. Post to Related Forums
Participate in forums related to your niche, and post your content there.
13. Comment on Related Forums
Again on forums related to your niche, look out for opportunities where providing a link to your blog post could help with other people's queries.
14. YouTube
Create a video from your post. For example, this post could be turned into a Powerpoint which I then video on my desktop, provide a voiceover, and upload to YouTube.
Adapt some of the content from the post for the video's description, linking back to either the original post or your main site.
Create your own regularly published YouTube channel by doing this for each blog post as you publish them.
15. Pinterest
Add the images you use in your post to Pinterest (how and why?).
16. Blog Comments
Find related blog posts, and in the comments link to your own post as a useful source of further information. Make sure you add a thoughtful and interesting comment too, adding to the value of the original post, and helping to ensure your comment is published.
17. Quora
Look for opportunities where you can point to your post to help answer someone's query on Quora…
(Also see How to Start a Quora Blog for Your Business)
Do the same thing on…
18. Yahoo! Answers
19. Article Marketing
Create a version of your post and syndicate to publishers worldwide.
20. Press Release
For maximum attention, announce your new blog post via a press release.
21. Email To Your List
Use each blog post as the basis of communicating and keeping in contact with your list. Try using an excerpt, and then link to your post where they can read the full version.
22. Flesch Kincaid Reading Ease
The easier your content is to read, the more shareable it is. Run your content through a readability checker like read-able.com. Aim for a Flesch Kincaid Reading Ease score of at least 60. Anything below that, and your content may be too sophisticated to go viral. Simple wins!
23. Proof Read It
Mistakes cost clicks. Your content becomes less shareable and you kill any potential for it go viral. Leave your content for a day or two and then go through it carefully, correcting any errors or readability issues you come across. Even better, get a fresh pair of eyes to review it for you before publication. You may be surprised what they find.