Quora is not far off becoming one of the top 100 most visited sites in the world (
Alexa
), with roughly 
100 million
monthly unique visitors, half of which are from the US.
It's based on a simple question-and-answer format, and incorporates elements of social media to help generate interactivity and wide exposure of content.
It has far more authority than other question-and-answer sites, attracting the regular involvement of authority figures and genuine experts, from industry leaders and CEOs to influencers and even presidents.
As such it attracts increasing amounts high quality traffic.
When approached in the right way, business owners can ride on the back of their success, and siphon often significant levels of traffic back to their own sites (as I show below, to the tune of several thousand visitors a month).

But traffic's just one of the benefits of taking advantage of Quora for business purposes.
There's also:
Building exposure for your brand…
Connecting with influencers…
Gaining key insights in your market…
Discovering new ideas for content…
And more!
This post will show you:
Why you should must be using Quora for your business if you're not already (in fact, you'll find some of the stats I share below inspiring). Okay, I lied. It's not suitable for every type of business. But I'll tell you when you should be using it – and when you probably shouldn't.
How to create your account and get started on Quora. (There are some specific things you need to take care of when using it for business purposes to maximize the benefits). 
How to use Quora in the right way for business and marketing purposes, including harnessing the various ways in which it can drive quality traffic to your own website. (As I show you, blatant self-promotion is a bad idea and will be self-defeating. But by working with the platform, you can add value to their community while building exposure and attracting traffic for your own business).
Why Use Quora for Your Business?
First, it's helpful to become inspired by what can be achieved by working with Quora.
Here are just a few examples of people gaining significant benefits from the platform.

Imran Esmail (escapeyourdeskjob.com) has achieved nearly a million and a half views on his answers.

He has written 343 answers, has become the most-viewed writer on Quora within a number of categories, and the effects have been significant:
Right now, Quora is the number-one traffic driver for my blog.
Imran Esmail, writing on SmartBlogger.com
He achieved all this within less than 12 months, writing an answer or two some days, other days none.

In her role as content marketer at Wishpond, Cara Tarbaj used Quora to drive thousands of visits a month to the site from her Quora answers.
In face, with tens of thousands of views of her answers every month, Quora became their second biggest social referrer of traffic.
Neil Patel also acknowledges Quora's potential to drive thousands of visitors a month to your site.

This blogger experienced a 40x traffic spike after adding some content to Quora that resulted in temporarily overloading and crashing his blog, tripling his Quora followers, and boosting his followers across other social sites like Twitter (see 5 ways to increase your Twitter followers).

By regularly writing on Quora, it became the #1 traffic source for business owner (and now investor) Kevin Lee, "sending thousands of readers who became subscribers and helping to bring over 1000+ product managers from all over the world into my website's online Slack community".
See the potential? There's more…
The focus with these examples is on direct, click-through traffic.
And Quora is certainly a high quality source of traffic and leads.
People on the site have a keen interest in finding information to help them. By providing it, you build trust, credibility and authority. As a result, you attract highly targeted leads for your own business.
But there are other benefits too that can be just as, if not more, valuable.
And I've got more examples of people finding success with Quora for you below.
Build Exposure for Your Business
By regularly answering questions in topic areas of interest to your marketplace, you become a recognized authority and expert while building visibility and familiarity with your brand.
While Quora users may not all click-through to your website and deliver immediate traffic benefits, you are building up a form of marketing equity for the future.
As people become increasingly familiar with your business, you increase the likelihood that at some point they will click through. They may also just remember your domain and visit independently at some point, and/or refer you to others.
Not only that, it means you start to…
Attract Opportunities
The influence of people who use Quora and respond to its power shouldn't be underestimated. In fact this benefit can far outweigh the traffic benefits alone.
For example:

Kevin Lee and Imran Esmail from the list above connected through Quora, and co-wrote Quora Domination which became an Amazon Top Seller. On top of this success, it also meant they opened up new connections with other influential Quorans.

Screenwriter Mark Hughes wrote an answer to the question, Superheroes: Given our current technology would it be possible for someone to become Batman?
For whatever reason, his answer went viral and the response was overwhelming.

Firstly, his answer became the cover story for Hacker Monthly magazine.
Secondly, the "answer played a pretty big part in my getting the blogging job at Forbes (Forbes.com and magazine). When that happened, however surprised and pleased I'd been before about the answer going viral, I was a thousand times more shocked and happy that it gave me such an opportunity."

Harsh Snehanshu wrote an answer about travelling around India after college.
It resulted in:
A number of publishers approaching him to write a travel book.
An invitation to speak at TEDx.
Thousands of new followers on Quora, amplifying the reach of all his other content on Quora.
A flood of new Facebook Likes.
Becoming featured on many national portals and newspapers.
These are just a few such examples.
Stories like this abound from regular contributors to Quora, though it's likely the vast majority go unreported.
Connect with Influencers
On Quora you're in exactly the same environment as key influencers for your niche, and your own content can become equally visible. It gives you an almost unrivalled ability to attract the attention of and connect with them.
While simply contacting them out of the blue and hoping for a response is likely to have the same effect as on any other platform, Quora provides some powerful opportunities to connect with them in more meaningful ways.
I explore these more below.
Quora also provides accolades such as Quora Top Writer which can be a significant boost to your influence and opens up new opportunities to connect with others.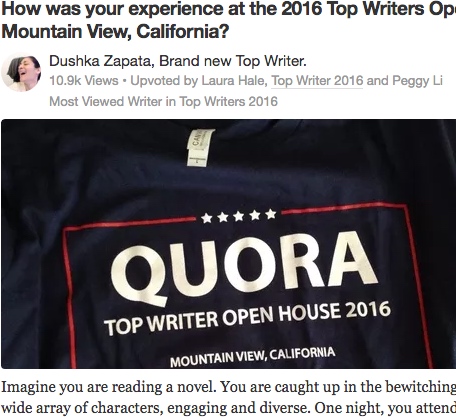 For example, Quora hold a bi-annual Quora Top Writer Conference, open of course only to their Top Writers, allowing you to freely mix, speak and build relationships with influencers.
…every single person I met was impressive in some way. Everyone there was a thought leader in their respective industry [and] was open and more than willing to share what they knew, without apology.
Nicolas Cole, Quora Top Writer Conference 2015
What's more, a few months' worth of reasonable but regular activity levels on Quora can lead to the Top Writer badge. While they don't reveal the exact criteria used, it's largely down to regular activity and quality content that attracts engagement.
It's not just about becoming a Top Writer. For example, you can also become a Most Viewed Writer within one or more topics.
This is easier to achieve, and simply the result of regular activity on the platform.
When you become a Most Viewed Writer you'll see a notification like this:

The accolade gives your profile a lot more visibility for people viewing the topic:

Plus, when you answer questions, it gives your content more authority and can help you rank higher on the page:

Gain Key Insights in Your Market
Quora is powerful for market research.
People tend to be very open and transparent on Quora, much more so than on other social networks. It means perusing both questions and answers often provides key insights into your market.
You can also of course ask your own questions to find out directly what the exact challenges in your market are.
Once you have identified what the concerns of your market are and where any gaps exist in the marketplace, you can then design products and services accordingly.
Discover New Ideas for Content
Quora offers perhaps an unparalleled opportunity to discover new ideas for content.
For example:
You can find numerous questions within your niche that blog posts and other content can be based on. You can then reference and link to that content via a Quora answer (note you have to approach this in the right way, which I cover in more depth below).
In reading other answers to questions, you can gain a lot of inspiration for new posts. You might find misperceptions, gaps in knowledge, points you can expand on, or simply new ideas to take away with you.
When crafting your own answer to a question, numerous ideas for new posts often come to mind, such as expanding an answer into longer content.
Quora's notifications (more on this below) also mean you'll get new content ideas from the heart of your marketplace sent straight to your email. What could be easier?
For example, here's an answer to a question I wrote very recently on attracting organic traffic to early-stage blogs. It could easily be expanded into a full-blown post.
Improve Content Creation Skills
On Quora, you learn to write clearly, succinctly and to the point. This comes both through writing your own answers, and in reading the answers from others on the platform.
It's made me a better writer. I'd like to thank Ellen Vrana, Dushku Zapata and Cyndi Perlman Fink for this. There are others too but these ladies have influenced my writing in ways they know and ways they know not. Whether it's inspiration or making me laugh for simply brilliant writing, they've made me a better writer.
Matt Hearnden, 10 Small Ways Quora Has Changed My Life
Overall, using Quora as both a writer and reader helps hone your content creation activities in general.
Learning
Obviously, with a huge number of people on Quora who are leaders and experts in their field, the opportunities for learning from the wisdom of others are virtually endless.
It's like having your own board of expert advisors who give you advice you didn't know you needed (and some you did), while inspiring you to think differently and reach higher.
For the business owner, it can be a far more productive and positive place to spend time than Facebook for example, which, let's face it, is largely mindless entertainment and a black hole of procrastination if you're simply perusing the feed.
In fact, you don't have to look far on Quora for Quorans who have all but given up on Facebook once they discovered what Quora had to offer.
(That's not to say you can't use Facebook productively as an information publisher to help reach your market!…)

So that's a ton of benefits. But should all businesses be on Quora?
Probably not.
For local businesses, at least for traffic generation purposes, your time would probably be better spent elsewhere.
Other than that though, time on Quora will generally be time well spent.
For businesses that already have a ton of traffic, the potential traffic advantages of Quora may make a minimal impact.
Even then, given the size of Quora's reach, a presence on Quora still helps you control the conversation and the perception of your brand.
Getting Started With Quora for Your Business
Create Account
Create an account on Quora via one of the social media buttons or the Continue With Email link.

Note even though you may intend to use Quora to help build exposure for a business, you still have to sign up – and add content – as an individual.
You can't (yet at least) post content as a business.
Instead, content is posted by named individuals. For a business, that means either yourself as the business owner, or someone within your business who can be the expert on behalf of your business. (See Wishpond's example above).
After creating your account, you need to select at least 10 topics that interest you.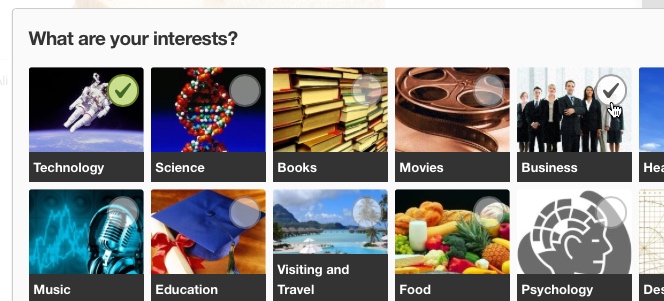 For business purposes, select topics with close relevance for your business and the interests of your marketplace.
As you select topics, further relevant topics are shown for you to select from that you can access by scrolling down.
You are then asked to enter topics reflecting your areas of expertise.

For each topic you add, you can enter a separate, relevant bio that helps readers understand your level of expertise and experience on questions within that topic.

Here's How Your Bios Are Used…
When you answer a question, your bio relevant to that topic will be shown. You can also choose to edit it, or select or enter a new one for the answer you provide.

In creating these bios, while you can't add clickable links, you can still take advantage of traffic they can generate by mentioning your website's domain name. A proportion of those reading your answers will none-the-less decide to go take a look at the website you mention.
The only, relatively minor, disadvantage is that you can't identify this traffic as coming specifically from Quora.
Completing Your Account Set Up…
Finally, complete setting up your account by finding people to follow.
Quora helps you get started by locating Facebook friends already on the platform.

You can then scroll down a list of people who Quora believes you may know and/or who write answers on topic areas of interest to you.

Note by building up a wide range of content on Quora yourself, you are more likely to appear in this box for new Quora registrants, and help build your own following.
Once you're done, Quora creates your feed based on your interests and the people you are following.

Create Your Profile
Yes, you have now created your account…
But to maximize the benefits from using Quora for business purposes, your work is not yet done!
While you can have individual bios for your topic areas as mentioned above, you should also create a more substantial bio on your profile page.
This is what people see when they click through on your name from an answer.

Unlike topic bios, you can add clickable links here that lead through to your website and other content.
Plus, as your authority on Quora grows, it's likely such links will hold increasing significance for your search rankings.
More information on Quora SEO is provided below.
Here's how my own profile is structured at the time of writing:
It is perhaps no coincidence that the SlideShare presentation I link to here continues to attract hundreds of views a month.
While the top line for your profile is limited to a certain number of characters, the main summary can be a lot more substantial and contain links and other formatting.
TIP: For a horizontal line divider like that shown above, just enter the characters — and click Enter. You will automatically get a centered, horizontal line.
Using Quora for Business
Posting
The more content you add to Quora, the more the benefits will increase. Quora's a game of increasing gain.
I'm far from the most prolific Quora user, and have answered just a few dozen questions so far, yet my answers are currently attracting over two and half thousand views a month – even in months when I don't answer anything.
I had a few answers there before, but as you can see, once I became more active on the platform my stats rose steeply.

To provide value, content doesn't have to be long, involved and complex. It's more important on Quora to simply answer the question clearly and succinctly.
Sometimes this will be a longer, more involved answer. But it certainly doesn't have to be.
For example, in less than 12 months, the following short, originally two-sentence answer has attracted over 10,000 views.
This was key to giving me the accolade of Most Viewed Writer in Blogging Platforms, which adds kudos and authority to my answers on the topic.

Authenticity Counts
Whoever creates the content, whether yourself or someone else representing your business, it's important to be real and authentic. The general culture on Quora is to be as open and transparent as possible.
So answer questions based on your own personal experience and expertise, and build your presence.
Linking to Your Site
Of course, to maximize the benefits for your business from your Quora activities, you also need to link back to your site from your answers, at least some of the time.
However, you need to do so in the right way.
If you try being self-promotional, you'll find it goes down like a lead balloon on Quora and can lead to a warning and even account suspension.
Instead, the main principles to follow to ensure you stay on the right side of Quora's policies are as follows…


Put the value you provide to the Quora community first and foremost. So your answers should fully and completely answer the question.
Avoid adding a couple of sentences followed by a link to your site where people can read the rest. That won't work.
Instead, the more value you can provide in your answers, the more exposure your content will generally receive, and ultimately the more benefits you'll receive.

Don't link back to your products and services directly, unless it can be fully justified within the context of the question (and even then, it's risky).
Instead, link back to content on your site that provides more value to the reader, and is strictly relevant to the question.
If you don't have such content yet, see it as an opportunity to create some.

 Don't feel you have to link back to your site in every answer you create. Sometimes you won't have suitable content to link back to that fits in with the question. That doesn't mean you won't benefit from your answer.
For example, it still:
Builds your exposure.
Helps attract followers (see below).
Helps lead to accolades on the platform (such as Most Viewed Writer for a particular topic) that builds your influence, authority and ability to connect with others.
Should a particular answer take off, you can always return and add a relevant link to your site later.
For example, when I noticed the relatively high number of views the two-sentence answer referred to above was attracting, I updated and expanded it as follows.

As you can see, I added a link back to my site (a post on this blog in fact). But I did so in a way that adds more value to the answer.
I even provided an image so people could get the value without clicking through.
This aspect of using Quora, while still benefiting your own site, is crucial.
By ensuring the mentality of giving to the Quora community is first and foremost in your approach, you:
Build trust…
Attract more upvotes…
Gain more exposure for your answer and profile, and…
Ultimately attract more traffic.
The more value you can add into your answers, the more upvotes you receive and the more prominence and visibility your answers start to achieve in general. As always, it's the content that counts.
Regular Posting
As with most content marketing activities including blogging, the benefits on Quora magnify when you contribute regularly.
For example:
Regular contributions helps your content on Quora build more rapidly, and attract more views and followers.
Quora's Top Writer accolade, which builds your influence significantly, is only generally awarded to those who are writing and contributing on a regular basis.
The amount of content you have on Quora has a positive influence on how it is ranked, and thus the amount of exposure your content receives. More information on ranking factors can be found below.
Use Images and Formatting
Include images in your answers where they add value. This helps attract attention to your content, along with upvotes and increased visibility in general.
Similarly, use formatting like bold and italics to improve readability and make your answers easy to consume.
Followers
As on other social networks, you can follow users on Quora just as they can follow you.
Here's what 'following' means on Quora, according to one of the network's founders, Adam D'Angelo:
So when someone follows you, it helps give your content more exposure and amplify it. In other words, the more followers you have, generally speaking the more upvotes (see below) and other engagement you'll attract.
But don't worry about attracting followers! What?
The truth is, the most effective way to build your followers is simply to write regular content that readers find valuable and results in them wanting to hear more from you.
You'll find your followers build naturally as you add more content. As with other social networks, the more followers you have, the more your credibility builds, and the more inclined others will be to follow you too.
Every so often, you may experience a viral hit that builds your followers significantly in a short space of time.
Even without many followers, you'll still find your content can achieve a lot of visibility.
So, quite simply, just focus on the content. The rest will follow.
Upvotes
Upvotes are how Quora users indicate their approval for a particular answer (similar to Likes on other social networks).

This helps Quora judge the authority of an answer and is one determinant of how answers are ranked on the question page. The higher an answer appears, the more views it will of course attract.
However, upvotes aren't the only factor, and there's no direct correlation between the number of upvotes and the position of an answer.
For example, the answer I share above with the 10,000+ views has received just three upvotes at the time of writing.
However, at the time of writing it's still featured #1 out of 10 on the question page (at least for me – see below) and above answers with more upvotes.

Other ranking factors include:
Previous answers by the author.
Whether the author has expertise in the subject (again, indicated by previous answers).
The actual content of the answer. So answers with images and links to useful relevant content (which may of course be your own) can appear above others.
There is also a degree of randomization. This means:
Newer answers can appear higher up, for a while at least.
The order of answers to a particularly question can differ between visits and for different visitors.
Quora SEO
Quora helps build your visibility on search, with answers tending to achieve high ranking positions in the SERPs.
For example, here are the results for best blogging platform for programmers, with Quora taking the top two spots.
The first result directs to the page containing the answer I shared above.

In terms of the SEO benefits for your own site when using Quora, there's no direct advantage as external links on Quora are 'nofollow'. In other words, they don't afford any authority to pages and sites you link to.
However, your content on Quora still helps your SEO indirectly.

Firstly, it's likely Google in some way still use Quora to some level within their algorithm.
They view Quora as an authority site and rank content on it highly. It makes sense therefore that the content linked to from within Quora may gain at least some advantage.
It could for example be the case that someone who has a good reputation on Quora is given more authority by Google, improving the visibility of content they produce elsewhere in general.
This is though unproven, and merely speculation.

Secondly, putting your content (and links to your website) in front of Quora users gives more visibility to the content, frames it with Quora's natural authority, and encourages others to link to it.
For example, if you were researching a topic for a new blog post on Google, you might come across a result from Quora in the SERPs. One of the answers on Quora might link to content that you then quote from and link to within your own content.
Let's take a look at the big picture.
When you have content created and repurposed across multiple platforms including your own blog, Medium, YouTube, SlideShare, Quora (not forgetting Quora's own blog platform), Google+, LinkedIn Pulse, niche websites in your industry that accept guest contributions, and many other places, it's not hard to see you'll soon start to dominate search.
In general, by using Quora, you support and strengthen your own rankings, not just through quality backlinks, but also by simply indicating to Google that you are the authority worthy of a top ranking.
Notifications
Quora send you regular notifications relating to questions you may be able to answer, including those:
Automatically selected by Quora, based on your interests and questions you've answered previously.
That other people request your answer to. On Quora, you may see these referred to within people's posts as A2As (Ask to Answer).

You tend to get more A2As as your activity on Quora increases and your authority on specific topics is recognized.
You can manage the notifications you receive from your Settings. Click through from the profile menu in the top right of Quora, and then via Email & Notifications on the left-hand side.

View Stats
What you measure you can improve.
The good news is Quora comes with some excellent stats. You can see:
The number of views your answers are attracting.
Your upvote count.
How your total views are building over time.
Access your Quora stats via the profile menu:

The dropdown at the top then allows you to view the stats over a time period of your choosing:

Using the adjacent dropdown, you can view stats for just your answers, your questions, posts on your Quora blog, or all content.
Viewing your stats can benefit your business in a number of ways:
As you see your answers attract views over time, it's a powerful motivator to increase your involvement in the site (and thereby attract more benefits).
By highlighting answers attracting the most views, you can examine opportunities to optimize them further. For example, you may be able to improve the answer, increasing engagement further, and add a suitable link back to your site if there wasn't one already.
The stats can help you understand the type of content that attracts the most engagement, improving your results over time.
It can help you decide what to create content about on your own blog or elsewhere:
I'm absolutely addicted to Quora because I have seen the amount of traffic that questions, comments, answers, and blog posts receive. This is very attractive to me because I can drive traffic to my website by taking the most popular content on my Quora statistics and write articles or blog posts around that type of content. In other words, I'm using the Quora stats to figure out what to write about in my posts.
Carl Wolfgang Schultz, writing on Quora
To finish off, here are twelve top tips to help you use Quora effectively for your business.
Using Quora for Business – Twelve Top Tips
Commit for the Long-Term
As with other content marketing activities, creating content for Quora is an investment for the long-term. Don't make the mistake of trying it for a couple of weeks for a test and then giving up.
The results start to build when you've been contributing for a while. Your answers will continue to attract views, click-throughs and general awareness of your brand for years to come.
Plus, the more followers you attract over time, the more exposure your answers receive.
In other words, make it a regular part of your marketing activities, and improve as you go along. The potential benefits make it a no-brainer.
Respect Quora's Rules and Culture, and Don't Self-Promote
It's not about pitching your own products and services, but about giving as much value as possible in your answers.
In taking the What can I give? approach rather than What can I get?, Quora repays dividends.
Your content will rise to the top, along with your credibility, authority, traffic to your site, and numerous other benefits.
This doesn't mean you can't link to your site. As outlined above, link to content on your site that provides more value for the reader, and use this opportunity to help build your list (see #8 below).
Contribute Regularly
Contribute regularly to build awareness of your business and brand, attract recognition as an expert for your topic, build up followers, and attract numerous other opportunities.
As with other content marketing activities, regular content creation magnifies results.
It's Not Just About Traffic
Don't measure ROI in terms of just looking at the direct traffic you attract from Quora (see #12 below). That's only part of the story.
For example, you'll get people who type in and visit your domain directly when you mention it in topic bios.
It's not just about traffic. You'll attract linking opportunities, partnerships, opportunities to create content elsewhere, and numerous other benefits as outlined above.
Use Quora to Create Laser-Targeted Content
Use Quora to understand the type of information people in your marketplace are looking for.
Then create content on your blog and/or elsewhere (e.g. a YouTube video) that fully addresses those questions.
This is laser-targeted content that will attract your marketplace to you.
Return to Quora, and link to your content from one or more answers where it helps add value. Always remember however to ensure your answers stand on their own merits, and don't rely on links to your own content.
Use Quora to Research New Products and Services
Quora is a valuable tool for understanding your market, seeing what their challenges are, and identifying gaps in the market you can help fill with new product offerings.

Connect with Influencers
Quora is powerful for connecting and networking with influencers and others who can help support your business.
Here are some approaches you can take.
Find questions they are following, and answer those questions. Should they like or comment on your answer, reach out to them further.
Provide answers to questions they have previously answered:

At some point they may review how their answers are ranked for various questions, and come across your own. As you build up your content, this increases familiarity, and can make it easier to contact them directly at some point in the future as you'll have some common ground.
In your answer, try providing some additional information that supports their own. Reference and link to them from within your own answer. Send out a Tweet with a link to your answer and incorporate their Twitter handle. At the very least they may retweet it, which gets you on their radar.

Ask a question on Quora, even mentioning their name within the question. Invite them to answer. Most will be keen to control the conversation and make their contribution. Spend time crafting a good question in the same way you'd spend time putting a good answer together.
Just being on Quora and regularly creating content can lead to influencers seeking you.
For example, here's a Tweet from James Altucher, looking for suitable Quorans he can invite to be on his podcast:
I like hearing your suggestions. Who do you follow on @Quora? / should I have them on my podcast? pic.twitter.com/C5qpg5r1ej

— James Altucher (@jaltucher) April 4, 2016
Quora is of course a natural place to seek out experts to interview for podcasts. It pays to be there.
Build Your List
Don't link back to opt-in or squeeze pages directly. This will be seen as self-promotional, bad form and will hurt your credibility.
Instead, as stated numerous times, link back to relevant content on your site. Within that content, incorporate content upgrades and other opt-in mechanisms to convert the well-qualified, highly targeted, information-hungry traffic from Quora into leads for your list.
Start a Quora Blog
If you're already blogging, it makes sense to repurpose that post for a Quora blog and grow your reach.
For example, posts I published on Quora just a couple months ago as an initial test have since received hundreds of views. Regular such publication will of course magnify those results significantly.
What's more, publication of such content all helps towards becoming a Quora Top Writer, opening up many more opportunities to you.
Drive Engagement Through Other Social Channels
When you answer a question on Quora, don't forget to use your other social channels to drive views, build engagement and grow your authority.
For example, share the answer via a quick Tweet:
Is it normal that a three month old #blog has near to nothing when it comes to #organictraffic? My answer: https://t.co/XeUPb1nR5s #seo

— Steve Shaw (@MeetSteveShaw) June 4, 2016
Repurpose Content as Quora Answers
Each time you publish new blog content, look for opportunities to repurpose that content as answers on Quora. Link back to the blog post as and where appropriate.
Make this a regular part of your regular blog post promotion schedule.
Measure Quora Traffic
I've mentioned traffic from Quora several times in this post, but unfortunately it can be difficult to identify as coming from Quora.
The reason is, in mid-2015, Quora added 'noreferrer' to all external links. That means you'll see the majority of traffic from Quora showing as direct rather than referral traffic.
However, there is a way to get around this and track traffic from Quora within Google Analytics.
Simply add a UTM code to your links using Google's URL builder. For the Campaign Source, simply enter quora.


To conclude, you should now recognize Quora as a valuable addition to your content marketing arsenal.
In fact, for most business owners, it's a no brainer.
The best part is, the content you create on Quora doesn't tend to go stale and drop in visibility. Answers you provide continue to attract views months or years later.
In other words, spending time answering questions on Quora is a long-term investment in your online visibility.

Remember to get the cheatsheet with 12 top tips to help you use Quora successfully for your business.